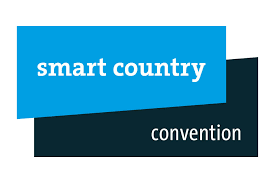 INFORMACINE RAIDA representatives took part in the exhibition "Smart Country Convention" (SCCON) on 7-9 November in Berlin, Germany.
The Smart Country Convention (in short: SCCON) is Germany's largest congress for the digitization in the public sector. The Smart Country Convention integrates relevant partners and creates a 360-degree view of public owned companies, institutions and organizations that are currently working on the digitizing of the public sector, as a modern public administration and smart urban development concepts are the most important future topics of our time.
INFORMACINĖ RAIDA representatives had the opportunity to see and hear the national and international top speakers, that provided a mixture of expert knowledge, some inspiration and new ideas on the digital transformation of the public sector. In interactive workshops and seminars INFORMACINĖ RAIDA representatives get the chance to experience trend-setting topics and to receive digital know-how. Networking areas and Side Events offer numerous touch points to make valuable contact with relevant people.
At the event, company representatives presented their solutions to potential customers, which include the areas of smart cities, smart seaports, digital twins and logistics sector.