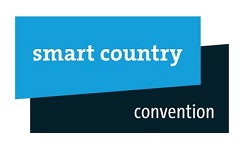 From the 22nd to 24th of October 2019, the representatives of INFORMACINĖ RAIDA are taking part in exhibition "The Smart Country Convention" in Berlin, Germany.
"The Smart Country Convention" focuses on digital solutions for administrations and public services in municipalities, regions and national governments. An exhibition combining networking and training opportunities, the Smart Country Convention features a lecture program and specialist congress. Key players from administrations, government agencies, the digital economy, associations and science come together on three days with one common goal: digitization of the entire public sector.
During the exhibition INFORMACINĖ RAIDA is presenting a virtual 3D model of city/port/ environment infrastructure, which allows to automate city/ port/environment management.
INFORMACINĖ RAIDA creates new digital city management modules. It was among first enterprises in the Baltic countries that has started to develop and implement information systems for all enterprises in the seaport logistics chain. Our knowledge collected by working in different port and with different customers led to the creation of unique and first-of-its-kind product in the world – Simulator, the imitation model of stevedoring company.
Key sectors:

• Smart city & virtual models;
• Simulators;
• Seaports & logistics.