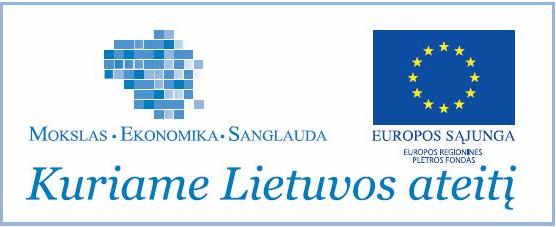 In the period from 1 January 2010 to 31 December 2012 the project "Development of the integrated insurance business information system" (Project No VP2-1.3-ŪM-02-K-02-146) was implemented under the measure "Intelektas LT" of the Action Programme for Economic Growth, with UAB Informacinė raida acting as the project promoter in cooperation with its partner UAB Data House.
The project was co-financed from the European Regional Development Fund and the budget of the Republic of Lithuania. The support granted for project needs amounted to LTL 581,890.
The project has as its objective the development of insurance business information system (IS) adapted for companies operating in the emerging East European and Asian markets. The insurance management information system is designed for insurance companies to enable them to effectively manage their business processes and data with the help of the system. The system will consist of a set of interlinked modules that play an important role in the operations of any insurance company. These modules include the management of tarification changes (product development module), management of policy life-cycle, agent network management, claims management, reinsurance module and unit management module (life insurance). Given that each insurance company has unique principles of internal operation in any of the foregoing areas, the system must be sufficiently flexible to ensure its adaptability for the functioning in different business environment.
In the process of project implementation, more members of the staff acquired practical experience in the area of research activities (totally 11 researchers were partially involved in project activities at different stages of the project).
Drawing on experience gained during the project, UAB Informacinė raida will continue initiating new projects for the development of new products and services. Priority will be given to the accumulation of even greater scientific potential and further cooperation with research institutions.
UAB Informacinė raida is basically involved in the design, development and integration of information systems and the sale and servicing of applications and system software. The company specialises in solutions for freight handling, forwarding, logistics and transport companies. UAB Informacinė raida was one the first companies in the Baltics to engage in the development and supply of specialised solutions for all participants in the port information space. The main types of the company's activity include distributed information systems, internet technology, repositories and data analysis, CRM solutions. While the company's sales keep growing year by year, the range of its services and customer base increasingly broaden.